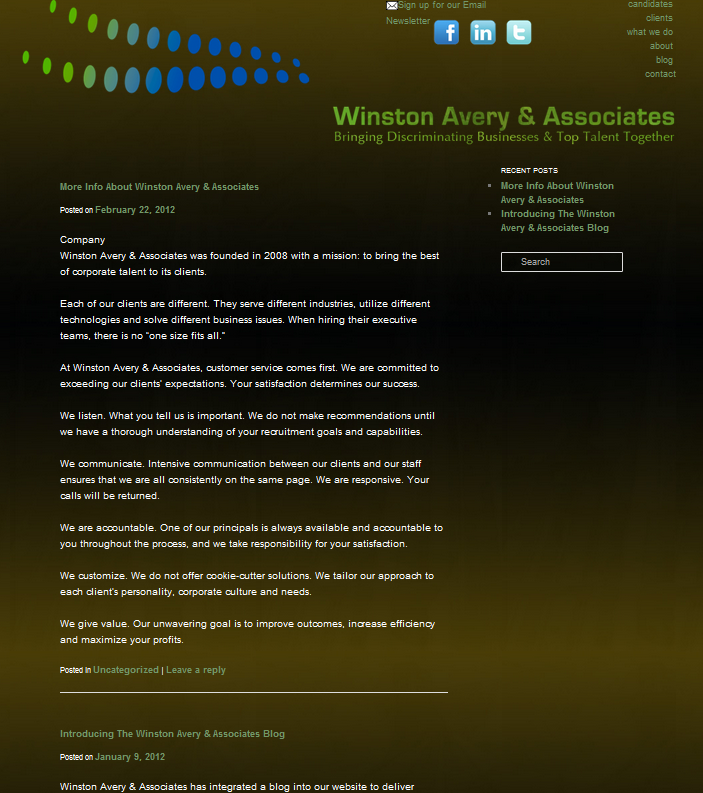 Winston Avery & Associates is a talent search company assisting technology firms in finding high quality talent to fill executive level vacancies in companies around the nation, including fortune 500 companies and hot technology companies.
The Marketing Masters and our designers came in to design a blog that would match the feel and look of the company's main website. Winston Avery decided to pursue SEO and rank their website better in search engines which meant we needed to come in and add a content management system for them to utilize in adding SEO friendly content. Their new blog also allows them to post regular updates for their clients and post news about their business. We managed to design a blog that fit the exact feel of the company's homepage, which allows for a completely seamless transition from their main website into their blog. We managed to finish this project on time, under budget, and our client is extremely happy with the results.
If you have any questions about our projects or want to learn how our services can help improve your website, click here to request a free consultation or call us at 1-888-918-1665.