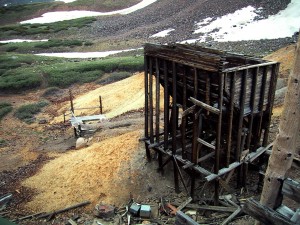 Over the weekend I was flipping through TV channels and came across a show about mining gold.  There was nothing else really on, so I started to watch it a little as I've seen bits and pieces of this show in the past.  It was towards the end of the season of gold mining in Alaska, and they checked in with the various mining camps to update us on how many ounces of gold they've found and how much money they've made.
The results looked something like this:
Mine 1: 100 ounces
Mine 2: 93 ounces
Mine 3: 93 ounces
Mine 4: 77 ounces
Mine 5: 76 ounces
Mine 6: 50 ounces
Mine 7: 12 ounces
Mine 8: 3 ounces
Now the average of all these mines is about 63 with a goal of 100 ounces, which is fairly good but you can see there's really two main out layers that are pulling down the overall average.  As I continued to watch the show, they focused primarily on mine 1 which was doing GREAT but good TV isn't made from watching people succeed, it's made from watching people fail, so they also focused heavily on mine 7 and mine 8.  As the show progressed, mines 7 and 8 started to change their strategy and change their angle in the mine and they soon found a good amount of gold.  In the last few days of the season, they found enough gold to bring them into 3rd and 4th place in the overall rankings.
As most things do, this triggered my mind to star thinking about SEO (I know, I'm one of those people).  I realized how easy it is to have a fairly good average, and have 10 campaigns with 8 of them seeing great results but 2 of them seeing poor results.  And I also realized how many business owners manage their own SEO campaign and don't know how to make the small changes needed to turn their terrible results into amazing results.
Just a month ago I was talking to a prospect about SEO services for their business, and the business owner was telling me everything he's done so far to optimize his website.  He's a DIYer and likes to manage literally everything about his business, so letting us handle his SEO campaign was a frightening experience for him.  But after just a few weeks we made some changes based on our experience with SEO and were able to completely turn around his campaign, utilize all the work he's already done, and get his site ranking and generating revenue.  This is very similar to the miners, who all season long had terrible results but made one small change–a change that wasn't just by chance, it was because they have years of experience in mining–and that made all the difference.
While the relationship here might not be crystal clear on the surface, the bottom line is that it nearly always yields better results at a lower price when you hire someone specialized to handle your specialized tasks. As a small business owner, I know we often have that instinct to get everything done ourselves, but some of the most successful small businesses I've ever seen are successful for two reasons: 1) because the business owner knows how to delegate work and not carry everything on their shoulders and 2) because the business owner knows their limits and knows when to hire an expert for certain tasks.
So if you have a website that isn't performing properly, an SEO campaign that isn't reaching it's full potential, or really any other online marketing problem, reach out to an expert as sometimes the answer to your problem is so small and so affordable, you just don't have the necessary experience to realize what the change is.  In most cases, people don't call for professional help because they think it's going to cost an arm and a leg, but honestly more times than not we come in at a much lower price point than our prospects were expecting.