VeilUBridal is an online based store offering wedding accessories and bridal veils.
The Old Site: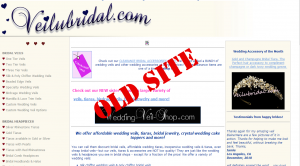 VeilUBridal.com was extremely outdated in terms of look, layout, and functionality.  The website was built in-house over a several year period, and unfortunately the team didn't know how to properly code a site.  This left the coding extremely sloppy, and caused numerous SEO issues for the website.  On top of that, the site didn't work well in certain browsers and had terrible flow from one page to another.
The Solution & Project:
The Marketing Masters and our designers came in to design a new website for VeilUBridal within a customized e-commerce platform within WordPress.  The design consisted of developing a semi-custom theme for the client to give them a new online identity and help them with branding as well as to allow for them to properly showcase their products on the site.
We then developed their e-commerce platform by starting with a base script and making customizations to fit the requirements of VeiluBridal.  We also incorporated a custom order form which allows their customers to design and order their own 100% custom veil through the site.
We also added a full blog and news section to the site, something they previously hosted off-site, which will help them with their long term content marketing and SEO.
The Outcome:
We finished the website on time, on budget, and our client is extremely happy with the new website and the fact that she still has full control of the website's backend.  Our client was kind enough to leave us with the following review upon completion:
The Marketing Masters did an awesome job of creating our new website. Organizing a website from the ground up is a complicated and detailed procedure; requiring lots of communication and education (on my part) and the folks at Simple SEO Group were great to work with. Our wedding veil website has specialized requirements in needing a way to offer brides a way of creating customized veils, and Brendan found the solution to this complex issue. He was always patient answering my many questions, and responded very quickly. He definitely went above and beyond, and always with a professional attitude.  I highly recommend The Marketing Masters to anyone needing a website for their business!
If you have any questions about our projects or want to learn how our services can help improve your business' online presence, submit our form to the right to request a free consultation or call us at 1-888-918-1665.

Click Site To Enlarge