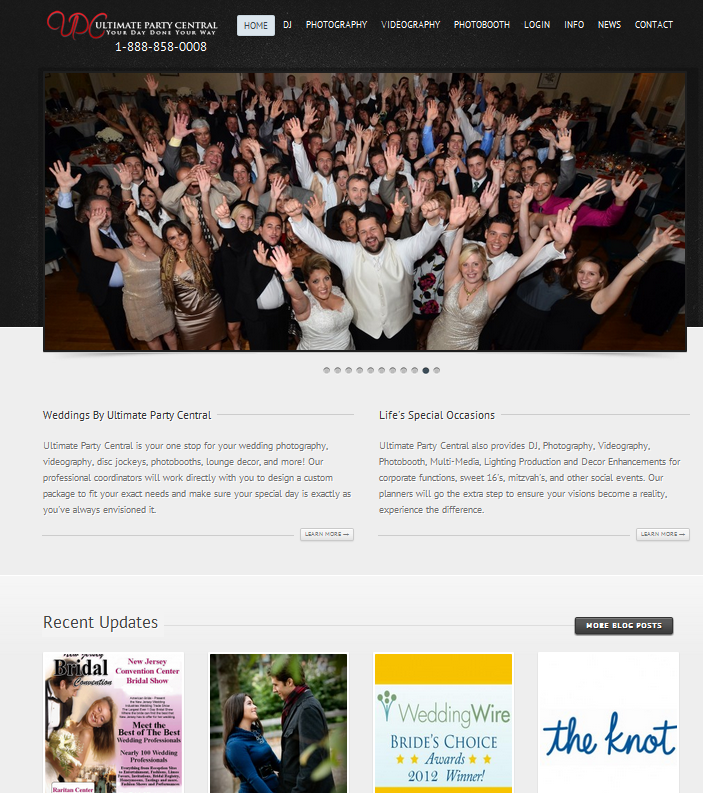 Ultimate Party Central offers photography, videography, and disc jockey services for weddings and other special events. Their website was initially broken down into two separate, outdated sites: a blue themed website which contained most of their website's content and information as well as a separate WordPress blog site which had a completely different design and feel than the main site. The two sites had a poor navigation structure between them and also had very poor layout and functionality.
The Marketing Masters and our designers came in to completely transform the two sites. We started by merging the content from both sites into one main site with a cohesive theme. We then redesigned each page one by one, removing redundant information and integrating layout elements such as pricing tables, accordion menus, tab systems, and other layout elements to make the pages cleaner, faster loading, and better flowing. As a photography business UPC required an extensive photo management system, and we custom fitted an image management system and provided them with various display options, including lightboxes, sliders, slideshows, and other image display tools. In addition to this we optimized all the content throughout the site to convert better, and since the design project Ultimate Party Central has reported a tremendous increase in website leads. Our goal with UPC was the same as with any client– to turn their website into their best sales person– and we accomplished this goal on time, on budget, and exceeded our client's expectations.
Upon completion of the website design, UPC contracted us to handle their online marketing and search engine optimization (SEO). Owner Nick Khamis also provided us with a fantastic testimonial:
"The Marketing Masters has went over and beyond the call of duty by creating a beautiful website for us. As a diverse wedding servicing company we had several customized elements that needed a trained professional to ensure simple navigation. Brendan and his firm were able to take the challenge; not only did they beat the deadline but they were able to keep it under budget. During the process it was easily apparent that we were dealing with honest hard working professionals that had all our best interests in mind. The Marketing Masters's customer service is second to none, even though our website is completed Brendan keeps in contact with us to ensure our conversion rate from our website is in tacked and in which doing so we have also started to utilize his services in the SEO arena with good faith. We absolutely recommend Simple Seo Group and can honestly, knowingly state that you will have the same wonderful experience that we had."
If you have any questions about our projects or want to learn how our services can help improve your website, click here to request a free consultation or call us at 1-888-918-1665.