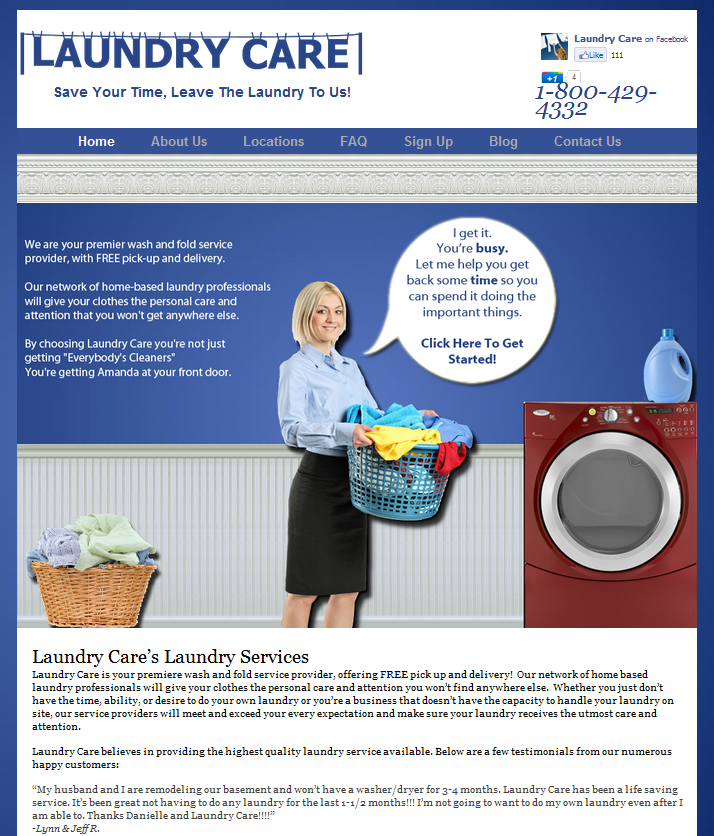 Laundry Care is a growing, nation wide wash-and-fold laundry service. Their old website had a stylish theme however there was no usability or administrator functionality. The website was improperly coded which was causing problems with on page navigation and search engine optimization.
The Marketing Masters and our designers came in to redesign the website to fit into a content management system. By importing the website's content into a CMS system and making some design changes, we were able to improve the website's usability, coding, load time, and make the entire site SEO friendly. In addition to this, we also designed a separate employee site for Laundry Care to use when recruiting new employees and contractors. The back end of the website features a custom built customer relationship management system in which the business owners and employees can input critical client data and automatically export it to their branch locations around the country. We also added a credit card payment gateway to the website as well as customized location finders and location pages. We improved the website's functionality, helped the owners simplify their management processes, and helped the website rank in search engines for various key phrases. Our goal with Laundry Care was the meet and exceed our client's expectations, and as always we achieved our goal.
Upon completion of the web design project, we began working on search engine optimization (SEO) for Laundry Care and assisted them in getting numerous pages for city-specific terms ranked on page 1 of search results.
We were also fortunate enough to have our client, Danielle Douglas, provide a fantastic review upon completing the design project:
Before I contacted Simple SEO I had a website that was difficult to navigate, loaded very slowly and wasn't SEO friendly. Of course I wasn't aware of these issues and didn't realize how badly they were affecting my website's online presence. Brendan at Simple SEO spoke with me in great length about the many issues with my site and what he could do to fix them. He was able to rebuild my site in a very minimal amount of time and at half the cost of what I originally paid. I can not speak highly enough of this company! They understand the needs of a small business and go above what is expected. I am so pleased with their work and confident in their abilities that I now use them for my SEO campaign.
If you have any questions about our projects or want to learn how our services can help improve your website, click here to request a free consultation or call us at 1-888-918-1665.