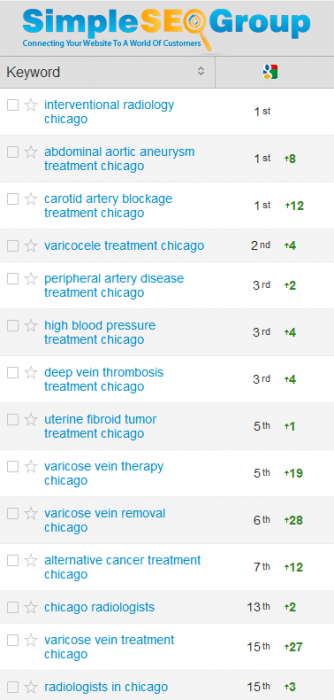 Most medical doctors don't traditionally think of the internet as the best way to gain new patients.  With many doctors, they live off referrals from other doctors, hospitals, and organizations.  But certain fields don't require the same level of referrals as others, and that's when doctors are forced to think outside the box to gain new patients for their practice.
Don't take it personally to any doctors out there reading this, but in my experiences most doctors I've worked with are FANTASTIC at their respective field, but not so fantastic when it comes to general business practices and marketing.  Let's be realistic, we don't want our doctor spending time trying to get new patients and market their website, we want them learning about the coolest, newest techniques in their niche so they can take care of us to the best that technology allows.
That was exactly the case when we started working with a local medical practice here in Chicago on their SEO campaign.  Prior to us handling their campaign, they had decent rankings for a few keywords but really weren't getting the maximum potential that they can get out of online marketing.  We stepped in and started an SEO campaign for them only 1 month ago and already have seen some fantastic results.  Now bear in mind we're only one month into the campaign, so they can't have top rankings for all of their keywords, but we have managed to get them some pretty strong improvements in a short period of time and as the campaign continues to progress, we'll continue improving their search engine rankings.
What Medical Fields Can Benefit From SEO?
In general we find that specialty fields benefit the most from SEO, however truly any medical field can benefit from higher search engine rankings.  Traditionally we find that chiropractors, podiatrists, radiologists, and other specialty fields have the most people searching for them in a specific geographical area, however primary care doctors and physicians can also benefit from improved search engine positioning.
The reality is if you're a practicing doctor and your website isn't already showing up when you search for your field in your city, you probably could gain at least a few new patients from higher search rankings.  And once a patient finds a good doctor, they're likely to keep returning and even send you referrals so the value of that one new patient can be immensely high.
Medical SEO Reputation Management
The other element of medical SEO that people often forget about is reputation management.  Doctors can get stuck in surgery, tied up with a patient who needs their urgent attention, or simply be running late and these days people jump to various medical review sites to leave negative reviews when doctors are late, having a bad day, or not able to offer the solutions the patient is looking for.  With medical reputation management, we're able to take actions to push those negative elements off page one of search results and replace them with your website and positive aspects of your practice.  Having a good online image is a critical part of any practice, no matter what field you're in, so take a few moments to search on page one of Google to see what's floating around about your practice.
All in all, we've done great things for our local Chicago medical practice and we know we can do great things for yours as well.  To learn more about our online marketing services, fill out the form to the right to schedule a free consultation or call us today at 888-918-1665!