Brooke Law Office is a small Oregon based real estate and small business law firm.
The Old Website Problems: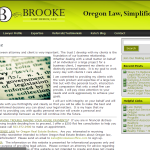 The old site was slightly outdated and didn't fit in with the overall corporate colors of Brooke Law Office.  In addition, there were several small issues with the site coding that weren't SEO friendly and the site was not mobile or tablet friendly.
Brooke Law Office recently has turned to SEO as a way to generate more interest in their services, and the old site simply wasn't developed initially with SEO in mind.  It was clearly time for a new site that would be marketing focused.
The Solution & Project:
The Marketing Masters and our team came in to completely redesign the Brooke Law Office website, providing them with a color scheme that fits with their corporate colors as well as a site that is more marketing driven.
We started out talking with the owner, Kate Brooke, to understand her objectives of the website.  We then moved into the design phase and choose a layout for the main site, tablet site, as well as mobile site.
Our designers and programmers worked to build out the website, with a focus on the following core areas:
Conversions: The site is optimized to encourage individuals to call or click to submit a web inquiry form
SEO: The coding of the site is completely SEO friendly and optimized to assist Brooke Law Office in achieving higher search rankings
Usability: The site is coded to be computer, laptop, tablet, and smartphone friendly, and is built out to have an intuitive, easy to navigate structure so visitors can find the right information fast
The entire site is built in the latest stable version of WordPress, an extremely popular content management system (CMS) that allows us as well as Brooke Law Office to easily make site changes and add content.  This ease of use helps Brooke Law Office cut back on monthly maintenance costs and also helps them keep an updated site.
The Outcome:
The entire new site was built in about 2 weeks, and while the site has only been live for a few weeks, we've already seen improvements in traffic and bounce rate.  Our client is extremely happy with the new look and functionality of her website and is looking forward to the marketing focus on the site to help her continue to grow her firm.
I am pretty tech savvy but, as a professional, I have little time to pay attention to my domain, web-hosting, e-mail exchange accounts and so on. In fact, there have been days I threatened to drop the whole notion of an internet presence if GoDaddy contacted me one more time about renewing, updating or otherwise paying for one more something that I don't really need, understand or even want to understand. It was about that fifth or sixth GoDaddy junk mail in one week that I was referred to Brendan Egan and The Marketing Masters. Brendan redesigned my website into one I could really be proud of. He took over my hosting. If I need something, I let him know – Brendan, himself, not a customer service rep, and Brendan responds in easily understandable terms, not geekspeak. I don't get junk mail, he doesn't try to sell me things I don't need and my web hosting is, from my perspective, seamless. For a business professional, The Marketing Masters is a business expense that really frees up your time and enhances your internet presence. I am very happy with my result.
Kate BrookeFounding Attorney, Brooke Law Office
Click Site To Enlarge